CareMessage focuses exclusively on safety-net organizations
Resources for you and the patients you serve.
New Release: Outreaches - Needs Review
We've made an update to your view of the CareMessage dashboard! The "Outreaches - Needs Review" feature notifies you of any patient responses to your recently-sent outreach messages.
Why?  
We want to make it easier for you to view and respond to inbound messages from patients. The "needs review" status identifies any patient responses to outreach messages that are "unexpected." For example, if you send a "yes/no" question about flu shots, a patient who replies with "Can you help me with booking an appointment?" will be flagged as "needs review." We're displaying it on the dashboard to improve your access and simplify your patient interaction workflows.
How?  
We'll surface up any patient responses to your recently-sent outreach messages that 'need review' on the dashboard. To view a filtered list of patients, click the "needs review" link. Afterward, you can use our direct messenger feature to follow-up as needed, or you can use the post-Outreach grouping and messaging functionality to reach out to your patients.
Log into CareMessage and view screenshots and more information here!
Care in Action
The data 
CareMessage has built software connections with certain EMRs (Epic, NextGen, eClinicalWorks, etc.) that allow us to pass information back and forth. Via this connection, we can collect attendance data on appointments.
Our data shows that when customers use CareMessage appointments to message patients, those appointments see a combined no-show rate of just 6.40%!
The insight 
CareMessage Appointment Reminders are proven to reduce no-show rates!
In addition to our reminder functionality, our Appointment Report feature allows you and your team to receive automated reports on patient RSVPs to review on a daily or weekly basis.
For example, create an automated daily report for patients in the "waiting for clarification" category. This will allow you to review unexpected patient responses and review patient responses at scale.
Log in to CareMessage and learn more about the Appointment Report feature here.
Upcoming Customer Care Hours
Our Customer Success Team sets aside time weekly to answer your questions and offer suggestions on how CareMessage can help further your goals. CareMessage customers can register here.
Past session notes and recordings are available here. (Log in for access!)
August 16- Fireside Chat with our CMO, Tracy Angelocci, MD
Join us for a free-form chat with CareMessage's first Chief Medical Officer, Tracy Angelocci, MD.
August 30- Product Walkthrough: Reporting Capabilities
Building appointment reports can enable your team to more easily follow up with patients that responded to reminders in a number of ways. Walk through real-life scenarios with CSM Thad Kaliszewski.
September 13- CareMessage Product Development: What's New & What's Next
Principal Product Manager at CareMessage, Orit Mohamed, will lead a discussion around our platform updates, new features, and what to expect in the future.
September 27- National Association of Community Health Centers (NACHC) Conference Recap: What We Learned, Trends, and Where We're Heading
VP of Customer Success Andrea Jones and CMO Tracy Angelocci, MD will share their findings from the NACHC conference in Chicago this year. Expect to hear about how what we learned will be applied to our overall CareMessage strategy.
October 11- TBD
Topic TBD! Ideas? Email thad@caremessage.org.
November 8- Chat with our CMO, Tracy Angelocci, MD
Join us for a free-form chat with CareMessage's first Chief Medical Officer, Tracy Angelocci, MD. Tracy leveraged CareMessage as the CMIO at an FQHC for four years before joining our team to help guide our clinical and data strategy. Bring questions!
November 22- National Association of Free & Charitable Clinics (NAFC) Conference Recap
Sales Manager Darryl Belcher and CSM Thad Kaliszewski will share their findings from the NAFC conference in Indianapolis this year.
December 6- CareMessage Product Development: What's New & What's Next
Principal Product Manager at CareMessage, Orit Mohamed, will lead a discussion around our platform updates, new features, and what to expect in the future.
December 20- 2022 Year-in-Review with our CMO, Tracy Angelocci, MD
Join CMO Tracy Angelocci, MD for a special CareMessage year-in-review session! We'll talk 2022 trends and what the future of patient engagement looks like.

CareMessage Integrations Increase Efficiency and Reduce Workload
On July 19, Principal Product Manager Orit Mohamed gave a special presentation on CareMessage Integrations at our CareMessage Customer Care Hour. We reviewed customer opportunities for integration of our appointment reminders, group messaging, health education, SDoH, and clinical referral messaging features.
Contact support@caremessage.org to discuss integrations further!
Appointment Reminder integrations with your EHR allow you to:

Send text messages to patients to remind them about upcoming appointments

Send appointment cancellations

Send follow-up messaging based on patient RSVP

Customize messages based on visit type

Create pre & Post appointment workflows

Group Messaging Feature Offerings:

One-to-many: scale your patient activation

Reach patients for any use case

Access to the web-app to write & deliver messages on an ad-hoc basis

Deliver messages to 100 or 100,000 patients in minutes

View metrics on your messaging
About Smart Tags in Appointments
What?
Our Smart Tag in Appointments allows you to include personalized patient content in Reminders. For example, you can now include unique links to telehealth appointments, patient-specific co-pay amounts, pre-appointment survey links & more.
How?
Here's an example of an appointment reminder with Smart Tags: 
Your Reminder Content:

What Your Patient Sees: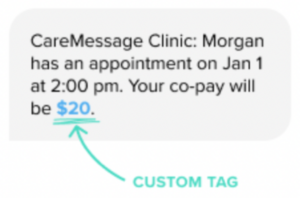 How To Populate Custom Smart Tags:
If you have an Appointment API or HL7

integration

with CareMessage, we can work with you to automate this workflow. If you'd like to begin this process please reach out to your CSM or

support@caremessage.org

Upload custom Smart Tag content via the

file center

. Simply add an "Appointment Custom Content" column to your regular appointment reminder file upload. Ensure the tag is placed in the Appointment Template referenced.
Read more here to start implementing Custom Smart Tags on Appointments.
The Data
CareMessage serves a vital role in our customers' efforts to communicate with patients about Social Determinants of Health (SDoH). Our data shows that since September of 2020, our customers sent over 5 million SDoH mentions via Outreach messages. These messages played a key role in informing patients about resources related to food assistance, financial assistance, housing assistance, and more- especially relevant amidst the uncertainty of the COVID-19 pandemic.
The Insight
CareMessage offers several options to connect your patients to important SDoH resources, and help you collect data on SDoH! 
Use our Outreach and 1:1 Direct Messaging features to send SDoH related-content to all patients, specific groups of patients, or individuals
Make an impact by using the SDoH messaging workflows within our Programs feature, including:
A 4-week program that delivers 2 resources/week tied to SDoH

A 1-day survey that collects responses on 9 back-to-back SDoH questions, and immediately sends relevant resources to patients
Reach out to support@caremessage.org if you'd like to discuss how CareMessage can help you achieve your goals in addressing SDoH.
Did You Miss Our June 16 Webinar with CPCA and Alliance Medical Center?
This presentation provided tips for how patient engagement and activation can address common needs of Community Health Centers, illustrating specific strategies that have been put into practice.
If you missed it, no worries!
We've categorized the millions of outreach messages safety-net organizations have sent using CareMessage, and we're excited to bring our insights to you.
In looking at our data, we saw that January and February saw a 53% increase in COVID-19 messaging over the prior two months.
We surmise that this is related to the spike in cases from the Omicron variant. Safety-net organizations increased use of our Outreach feature to deliver up-to-the-minute information about testing availability.
We are proud that our customers can rely on the flexibility of CareMessage- including the ability to increase messaging volume at no extra cost, and the ability to customize message content- to keep patients informed.Read more here about our COVID-19 messaging recommendations and encourage patients to test when appropriate!
CareMessage Customers Connect and Learn on Hypertension
In May, our Customer Success Team presented at the Customer Care Hour on how our customers use CareMessage to:
Fill hypertension-related Care Gaps,
Encourage patients to self-monitor blood pressure,
Improve hypertension medication adherence, and
Provide long-term, hypertension-specific health education
Did you miss it? Here's a link to the presentation, which includes sample Outreach messages and best practices for increasing the number of appointments scheduled and attended. Register for future Customer Care Hours here!
We Love Hearing from You!
Our CareMessage Product Feedback form is now live! Feedback from our customers is very valuable, so we want to make it easy for you. Please use this form to provide suggestions on how we can deliver a better experience. We appreciate it!