CareMessage focuses exclusively on safety-net organizations
Resources for you and the patients you serve.
What?
Our new Smart Tag in Appointments allows you to include personalized patient content in Reminders. For example, you can now include unique links to telehealth appointments, patient-specific co-pay amounts, pre-appointment survey links & more.
How?
Here's an example of an appointment reminder with Smart Tags: 
Your Reminder Content:

What Your Patient Sees: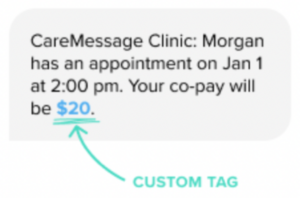 How To Populate Custom Smart Tags:
If you have an Appointment API or HL7

integration

with CareMessage, we can work with you to automate this workflow. If you'd like to begin this process please reach out to your CSM or

support@caremessage.org

Upload custom Smart Tag content via the

file center

. Simply add an "Appointment Custom Content" column to your regular appointment reminder file upload. Ensure the tag is placed in the Appointment Template referenced.
Read more here to start implementing Custom Smart Tags on Appointments.

The Data
CareMessage serves a vital role in our customers' efforts to communicate with patients about Social Determinants of Health (SDoH). Our data shows that since September of 2020, our customers sent over 5 million SDoH mentions via Outreach messages. These messages played a key role in informing patients about resources related to food assistance, financial assistance, housing assistance, and more- especially relevant amidst the uncertainty of the COVID-19 pandemic.
The Insight
CareMessage offers several options to connect your patients to important SDoH resources, and help you collect data on SDoH! 
Use our Outreach and 1:1 Direct Messaging features to send SDoH related-content to all patients, specific groups of patients, or individuals
Make an impact by using the SDoH messaging workflows within our Programs feature, including:
A 4-week program that delivers 2 resources/week tied to SDoH

A 1-day survey that collects responses on 9 back-to-back SDoH questions, and immediately sends relevant resources to patients
Reach out to support@caremessage.org if you'd like to discuss how CareMessage can help you achieve your goals in addressing SDoH.
You're Invited to CareMessage Customer Care Hours!
You're invited to attend our weekly Customer Care Hour, to be held on Tuesdays at 2 pm ET/11 am PT!
The Customer Care Hour will be an opportunity every week to answer your questions, address your needs, and learn from other members of the CareMessage community.
Please register here- you don't have to attend every week, but we'd love to see you there! You can submit your questions in advance here and we will be extra-prepared to answer them!
We've categorized the millions of outreach messages safety-net organizations have sent using CareMessage, and we're excited to bring our insights to you.
In looking at our data, we saw that January and February saw a 53% increase in COVID-19 messaging over the prior two months.
We surmise that this is related to the spike in cases from the Omicron variant. Safety-net organizations increased use of our Outreach feature to deliver up-to-the-minute information about testing availability.
We are proud that our customers can rely on the flexibility of CareMessage- including the ability to increase messaging volume at no extra cost, and the ability to customize message content- to keep patients informed.Read more here about our COVID-19 messaging recommendations and encourage patients to test when appropriate!
We Love Hearing from You!
Our CareMessage Product Feedback form is now live! Feedback from our customers is very valuable, so we want to make it easy for you. Please use this form to provide suggestions on how we can deliver a better experience. We appreciate it!