CareMessage focuses exclusively on safety-net organizations
Resources for you and the patients you serve.
Come to Customer Care Hours!
Our Customer Success Team wants to make sure that your questions get answered, and that we're offering suggestions on how to use our platform to further your goals.
The Customer Care Hour is an opportunity to:
Answer your questions: "How do I upload a file? How do I create a group?"

Address your needs: "We're distributing BP monitors to patients. How can we use CareMessage to facilitate this process?"

Learn from other members of the CareMessage community: "Our center has had a lot of success with driving cancer screenings with CareMessage. Here's what we've done…."
You can always reach out to us with your questions, but this is a standing opportunity to touch base with us every week.
2023 Pilot Integration Planning Underway!
We are always building new EHR integrations, in an effort to increasingly automate messaging functionality and save you time. Right now we are planning our 2023 pilot integration projects, specifically to expand integrations with NextGen, Epic, and athena.
If you are a CareMessage customer who uses one of these EHRs, you may be hearing from us about opportunities to consult with the CareMessage Product and Integration teams on integrations to solve the following problems:
Automating Gaps-in-Care workflows
Ensuring data consistency between CareMessage and your EHR
Automating the Referrals workflow
Participating in pilot initiatives as a customer will not cost anything, and we will work to limit the amount of time needed from your team. This is an opportunity to provide input directly with the CareMessage team to create functionality that will help you to be more efficient on a daily basis.
If you want to learn more about this, and discuss how pilot participation can help your organization- contact us! We want to hear from you and collaborate on making CareMessage a more useful tool for your organization.
New Automated Workflow for Clinical Referral Messaging!
Our Clinical Referrals functionality was developed in response to our customers' need to improve staff efficiency and referral completion rates. In an effort to continue streamlining workflows related to referrals, we're offering a new, automated workflow that will enroll patients in Clinical Referral Messages.
This new workflow is an SFTP transfer of patient referral data from your EHR to CareMessage. An SFTP (Secure File Transfer Protocol) transfer is a file protocol for transferring large files securely over the internet. When CareMessage receives data via SFTP transfer, we automatically enroll patients into the Referrals workflow. This automated SFTP transfer allows you to skip the file upload process.
Want to get started? If you're interested in enabling this functionality for your account, please reach out to your Customer Success Manager or email our support team!
This new workflow was presented in a past Customer Care Hour. Log in and view our Customer Care Hour schedule, past presentations and notes here!
Customer Spotlight: Gerald L. Ignace Indian Health Center

One of our favorite customers is Gerald L. Ignace Indian Health Center, located in Milwaukee, Wisconsin!
This past October, Gerald Ignace used CareMessage to send a Breast Cancer Mammogram Outreach message to patients. Mammogram screening rates at Gerald Ignace had dipped since the COVID-19 pandemic.
Following the October Outreach, the clinic screening rate increased from 8% to 32%. The ability to provide outreach in both English and Spanish enabled Gerald Ignace to connect patients directly with Spanish-speaking coordinators at one of the hospitals that perform mammograms. A total of 67% of patients who responded positively to the Outreach message were Spanish speakers. These Spanish-speaking patients were successfully referred and screenings were completed within two months.
Want to send a screening Outreach? CareMessage customers can visit the Outreach Message Library to get started!
Telehealth Study Yields Data on In-Person Follow-Up Rates
Epic Research published findings from a study which examined 35 million telehealth visits over the span of approximately 2 years. The study found that most patients did not require an in-person follow-up visit within 90 days of their online appointment.
This is an important indicator that virtual visits are an effective alternative to in-person care in many cases. In fact, the two specialties with the largest volumes of telehealth utilization- mental health and psychiatry- had some of the lowest rates of needing in-person follow-up. Detailed findings from this study show the rate of in-person follow-ups needed per specialty- study specifics can be accessed at this link.
(Oh, and by the way- Did you know that CareMessage allows you to include unique links to telehealth appointments within your Appointment Reminder messages? Log in and read here to learn more, or contact your Customer Success Manager to start using this functionality!)
Spotlight on Mobile Health Units!
In keeping with nationwide trends, many of our customers use mobile health units to reach patients in underserved communities. One of our customers, North Country Healthcare, presented last year on how text messaging helped them to increase scheduling rates with their mobile mammogram vans, and how examining patient response rates to texts helped to optimize mobile screening locations.
We were excited to hear recently that health centers will receive more funding for mobile units in 2024! Learn more here, and contact your CareMessage Customer Success Manager if you'd like to discuss strategies for getting more patients into care with messaging about mobile health units.
Out with the Old!
Auto-Archiving in the File Center
We recently made a change to the File Center in the CareMessage app. We're now auto-archiving files after they've been in the File Center for 30 or more days.
This will improve the in-app experience for our users by clearing up old files from the user view in the File Center.

New Patient Communication Materials!
On October 21, 2013, CareMessage launched our first product. It's been nine exciting years of working to achieve our mission: to leverage technology to help safety-net organizations fulfill the essential needs of underserved populations.
Our daily focus is always on our customers, and how we can help you be more effective in helping to improve your patients' health outcomes.
This fall, we heard from a new customer, Charlene Wright from Family Health Services of Darke County, Ohio, that communication materials would be helpful to let patients know about the new CareMessage texting system, and what to expect. We immediately knew that this was something that we should create for all of our customers, in order to make your job easier and help ensure that patients receive the information they need to manage their health.
In celebration of our nine years of partnering with our customers to achieve more equitable health outcomes, these patient materials are our gift to you! We hope you'll find them helpful in communicating with your patients.
Download Patient Education Materials below:
To add your organization's logo to the Patient Flyers, you can go to online PDF editor HiPDF.com, click on "Edit PDF", and upload the Flyer PDF. There is a blank space on the bottom left that will look great with your logo!
Happy Founders' Day! We look forward to many more years serving you and your patients.
Updates and Revisions to our Outreach Content Library!
Our Chief Medical Officer, Dr. Tracy Angelocci, is overseeing updates and revisions to many areas of our Outreach Content Library. Below is an overview of these changes:
New Outreach Content for Immediate Use
We have created new timely and up-to-date Outreach messages for you to use, including messages regarding the COVID vaccine in children, COVID boosters, and monkeypox.
Updates to Enrich Existing Content
Expansion of character limits have allowed us to add to the content of existing messages. You will see messages in the library updated to include more patient education and contextual language.
Multiple Patient Reply Options to Increase Engagement
We are now offering various patient reply options for many messages- a "call us" option and a "text back" option. This will help to increase engagement with patients who prefer texting vs calling their health center. In addition, a "Build your Own" library of messaging components in English and Spanish will allow you to easily swap out patient reply options or calls-to-action based on your specific needs.
Message Formatting to Increase Readability and Patient Response
Messages have been reformatted to improve readability and make the desired action clearer. We have employed best practices for spacing the content and call-to-actions (request to call back, text back, or click a URL) so that they are more likely to be acted upon by the patient.
New Links to Patient Education Materials
Many messages have been updated to include new URL links to patient education materials in English and Spanish. CareMessage will be able to track these links in the https://msg.care format, giving us valuable insights into what patient education links are most accessed by patients.
New Release: Outreaches - Needs Review
We've made an update to your view of the CareMessage dashboard! The "Outreaches - Needs Review" feature notifies you of any patient responses to your recently-sent outreach messages.
Why?  
We want to make it easier for you to view and respond to inbound messages from patients. The "needs review" status identifies any patient responses to outreach messages that are "unexpected." For example, if you send a "yes/no" question about flu shots, a patient who replies with "Can you help me with booking an appointment?" will be flagged as "needs review." We're displaying it on the dashboard to improve your access and simplify your patient interaction workflows.
How?  
We'll surface up any patient responses to your recently-sent outreach messages that 'need review' on the dashboard. To view a filtered list of patients, click the "needs review" link. Afterward, you can use our direct messenger feature to follow-up as needed, or you can use the post-Outreach grouping and messaging functionality to reach out to your patients.
View screenshots and more information here!
Patient Profile Data Enhancement- Preferred Language!
We've updated our app to allow for about 450 language options for Patient-Preferred Language within the Patient Profile. (Log in to see the list here!)
This update simplifies workflows for users as they upload patient lists to the File Center. Having the patient-preferred language represented in the CareMessage patient profile means that our data is more accurate. In addition, your staff can send direct messages via Messenger to their patients in their Preferred Language. Click here for some additional detail.
We are working on updates that will allow for additional language options for customers whose patients come into CareMessage via an EHR integration (ie. Appointment Reminders).
This update is an incremental step towards fully supporting additional languages in CareMessage, which is a priority for our team!
Congrats on Health Center UDS Quality Awards!
CareMessage was proud to see recognition of the great work of many of our customers!
We would like to especially congratulate two of our valued customers, Alliance Medical Center and Family Health Care Centers of Greater Los Angeles, Inc., on National Quality Leader - Maternal and Child Health awards. Your dedication to quality care inspires our team on a daily basis.
We also recognize the 12 CareMessage customers who received Gold Quality Leader Awards, the 17 CareMessage customers who received Silver Quality Awards, and the 19 CareMessage customers who received Bronze Quality Awards. We are proud to play a part in your achievement of excellent clinical quality metrics!
We congratulate the 63 CareMessage customers who were acknowledged as Access Enhancers, increasing the number of patients in a given service line by at least 5% in the past year, and the 54 CareMessage customers who were recognized as Health Disparities Reducers. Your work in improving health outcomes for your patients helps to fuel our passion to serve you as our customers.
Customer Care Hour Spotlights Integrations to Increase Efficiency
In July, Principal Product Manager Orit Mohamed presented at our Customer Care Hour about all of the exciting opportunities for CareMessage customers to integrate with their electronic health record or population health management tool!
From appointment reminders, to group messaging, health education, SDoH, and clinical referral messaging features- there are many ways for our customers with integrations to expand usage of CareMessage to increase efficiency.
Did you miss it? A meeting recording is here, and here is the slide deck.
Meet Our Chief Medical Officer!
Tracy Angelocci, MD, a longstanding customer and superuser of CareMessage, joined us in August as our first-ever full time Chief Medical Officer. In this role, Tracy will lead our clinical strategy and help to ensure customers like you are meeting your clinical goals with CareMessage.
Dr. Angelocci, an Internist and Pediatrician, most recently served for more than 10 years as the Chief Medical Information Officer (CMIO) at Lone Star Circle of Care in Texas. As CMIO, she led the Population Health team, Clinical Analytics department, and Patient Navigation Center and assumed a leadership role in the organization's performance in ACO and other value-based contracts. She was active in the organization's pursuit of partnerships to create a Community Centered Health Home for their patients, expanding into services beyond walls and exploring new, non-traditional avenues of patient engagement.
To learn more about why Dr. Angelocci is excited about working at CareMessage, read an interview with her here!
Affinity Health Center Shares their Success with CareMessage- Podcast-Style!
Recently the amazing dental team at Affinity Health Center spoke on a Health Care Innovation podcast about their success in using CareMessage to decrease no-show rates and increase the number of patients seen by their team- including more urgent patient referrals.
We love hearing positive feedback about our platform and our customers' success!
Listen here- the podcast episode is titled, "The Best D@%n Dental Team", and we agree with that assessment!
About Smart Tags in Appointments
What?
Our Smart Tag in Appointments allows you to include personalized patient content in Reminders. For example, you can now include unique links to telehealth appointments, patient-specific co-pay amounts, pre-appointment survey links & more.
How?
Here's an example of an appointment reminder with Smart Tags: 
Your Reminder Content:

What Your Patient Sees: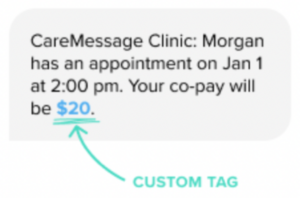 How To Populate Custom Smart Tags:
If you have an Appointment API or HL7

integration

with CareMessage, we can work with you to automate this workflow. If you'd like to begin this process please reach out to your CSM or

support@caremessage.org

Upload custom Smart Tag content via the

file center

. Simply add an "Appointment Custom Content" column to your regular appointment reminder file upload. Ensure the tag is placed in the Appointment Template referenced.
Read more here to start implementing Custom Smart Tags on Appointments.
The Data
CareMessage serves a vital role in our customers' efforts to communicate with patients about Social Determinants of Health (SDoH). Our data shows that since September of 2020, our customers sent over 5 million SDoH mentions via Outreach messages. These messages played a key role in informing patients about resources related to food assistance, financial assistance, housing assistance, and more- especially relevant amidst the uncertainty of the COVID-19 pandemic.
The Insight
CareMessage offers several options to connect your patients to important SDoH resources, and help you collect data on SDoH! 
Use our Outreach and 1:1 Direct Messaging features to send SDoH related-content to all patients, specific groups of patients, or individuals
Make an impact by using the SDoH messaging workflows within our Programs feature, including:
A 4-week program that delivers 2 resources/week tied to SDoH

A 1-day survey that collects responses on 9 back-to-back SDoH questions, and immediately sends relevant resources to patients
Reach out to support@caremessage.org if you'd like to discuss how CareMessage can help you achieve your goals in addressing SDoH.
Did You Miss Our June 16 Webinar with CPCA and Alliance Medical Center?
This presentation provided tips for how patient engagement and activation can address common needs of Community Health Centers, illustrating specific strategies that have been put into practice.
If you missed it, no worries!
We've categorized the millions of outreach messages safety-net organizations have sent using CareMessage, and we're excited to bring our insights to you.
In looking at our data, we saw that January and February saw a 53% increase in COVID-19 messaging over the prior two months.
We surmise that this is related to the spike in cases from the Omicron variant. Safety-net organizations increased use of our Outreach feature to deliver up-to-the-minute information about testing availability.
We are proud that our customers can rely on the flexibility of CareMessage- including the ability to increase messaging volume at no extra cost, and the ability to customize message content- to keep patients informed.Read more here about our COVID-19 messaging recommendations and encourage patients to test when appropriate!
CareMessage Customers Connect and Learn on Hypertension
In May, our Customer Success Team presented at the Customer Care Hour on how our customers use CareMessage to:
Fill hypertension-related Care Gaps,
Encourage patients to self-monitor blood pressure,
Improve hypertension medication adherence, and
Provide long-term, hypertension-specific health education
Did you miss it? Here's a link to the presentation, which includes sample Outreach messages and best practices for increasing the number of appointments scheduled and attended. Register for future Customer Care Hours here!
We Love Hearing from You!
Our CareMessage Product Feedback form is now live! Feedback from our customers is very valuable, so we want to make it easy for you. Please use this form to provide suggestions on how we can deliver a better experience. We appreciate it!